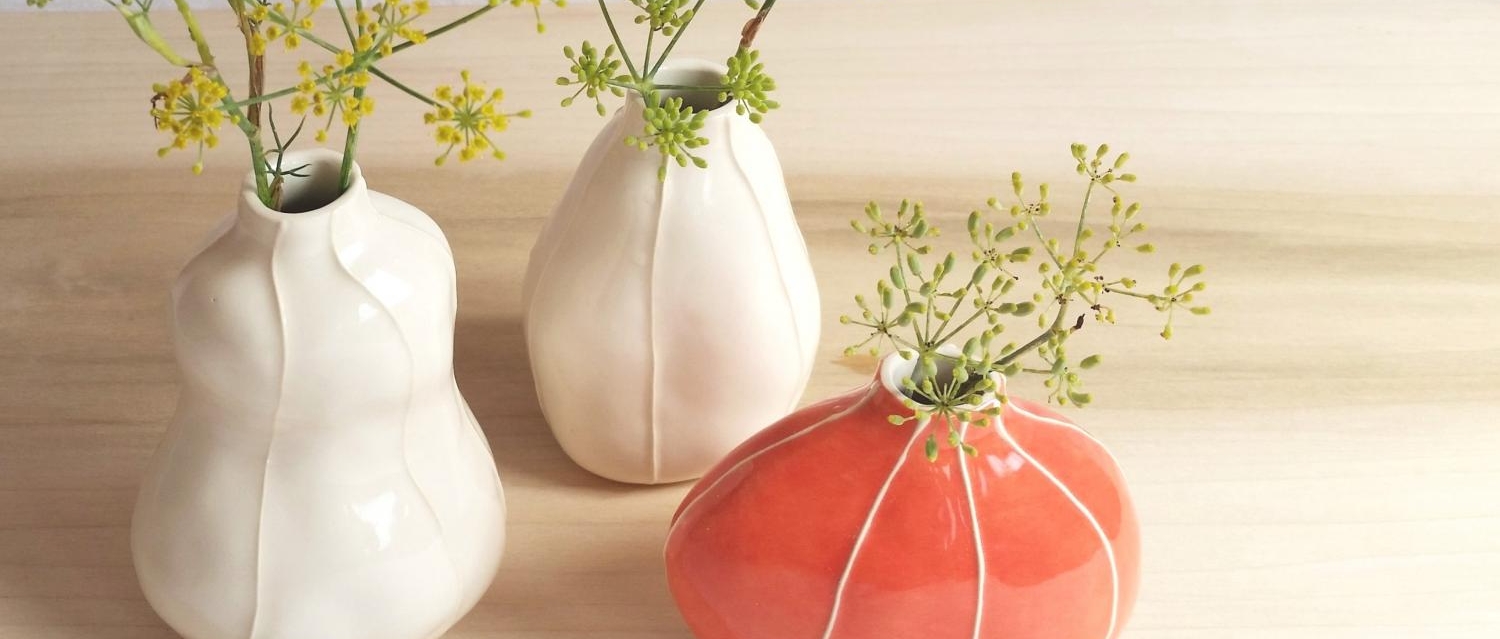 Workshop details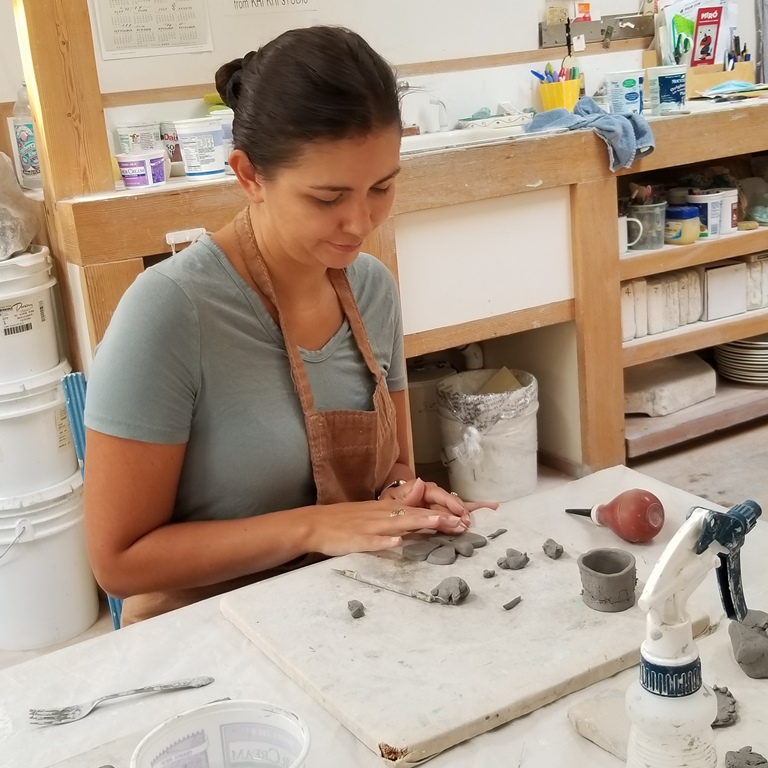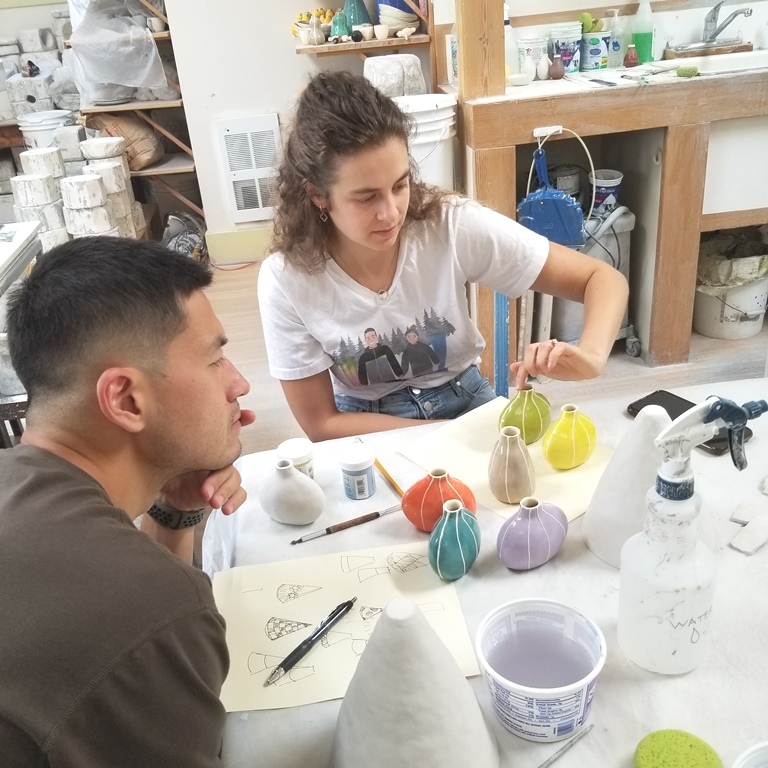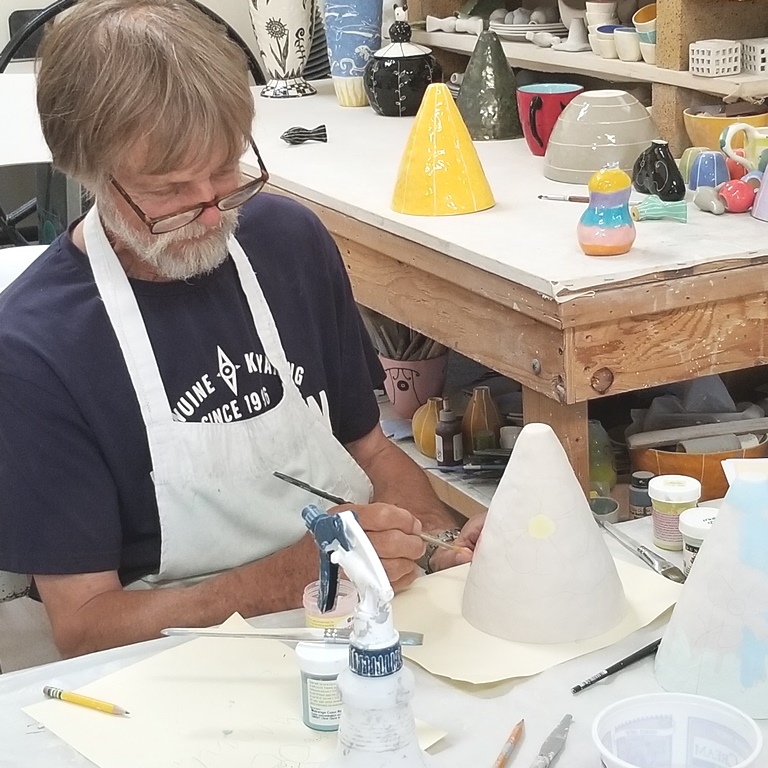 Ceramic Classes
By artist Kristin Nelson of kRI kRI Studio, Seattle
For invoicing: Contact Kristin (click)
The background
As a ceramic artist, people often ask me if I give classes. Busy with production, I have not given the idea full consideration until now. It was a rewarding studio experience, helping family members craft models from clay, which gave me the nudge. I finally decided to share what I love and open my studio for four special workshops. My studio space is compact and intimate, so I will offer classes to only a small number of adults at a time.
The class
In each class I will show the techniques I use to make molds for slip-casting before demonstrating the slip-pouring process. This is the technique I will have used to cast the vases, which will be unfired and ready for decoration by class participants. Such dried, yet unfired, work is known as "greenware".
Each student will have the opportunity to decorate their vase using underglazes during the class. After class, I will bisque-fire the pieces, a low-temperature firing which chemically bonds the colors but leaves the wares still porous. To bring out the brightness in the colors, and to make the vases waterproof, they will be gloss-glazed and fired again. The entire process takes several days, after which your vase will be ready to collect, and ready to hold flowers!
The vase for the class
I designed a vase specifically for this workshop, taking into consideration that its shape and size must be easy to work with, offer plenty of viable options for decorating, and the finished product must display flowers well. My two-part plaster mold allows me to prepare a greenware vase of this unique shape for each student to decorate.
My technical background
I graduated from University of Washington with a fine arts degree in ceramic sculpture. Starting my career with sculpture shows at Greg Kucera Gallery in Seattle, I became sidetracked into making kRI kRI decorative ceramics. That range, ornamented in black, curlicue designs, sold successfully at Barneys New York, Barneys Japan, MOCA, Gumps, and in many other places for over 20 years.
More recently I have focused on my VIT ceramics range, detailed with thin, raised white stripes. VIT ceramics began with vases and blossomed to include a range of ceramic lighting fixtures, including table lamps, pendant lamps, and wall sconces.
From initially operating a single kiln at home, I moved to a studio space in a shared property for some years before custom-repurposing a building as my dedicated ceramic studio. My current studio comprises a production room, a kiln room with twin kilns, a packing and shipping room, adjacent bathroom, and kitchen.
My teaching experience
Besides doing ceramics, I thoroughly enjoy kayaking. For more than 25 years, I have had the opportunity to work as an assistant instructor alongside a master kayaker, my husband, Nigel Foster. Traveling the world with him, instructing paddlers, has brought me much more than just the joy of kayaking. The experience has made me appreciate sharing knowledge and helping others to learn.
From this workshop, it is my hope that you will gain an understanding of processes behind slip cast ceramics and perhaps a greater appreciation of handmade products.
Location
Located on Express Bus Route E, on the southbound (west) side of State Route 99, just north of Seattle's Green Lake, kRI-kRI Studio is easy to reach by public transport or by car.
Terra Bella Flowers is located nearby on Greenwood Avenue North. Take your finished vase with the discount coupon and Terra Bella Flowers will create a flower arrangement in it for a special discount price.
​​​​​​​